eDEN Lite: Your 2-Way Radio on a Smartphone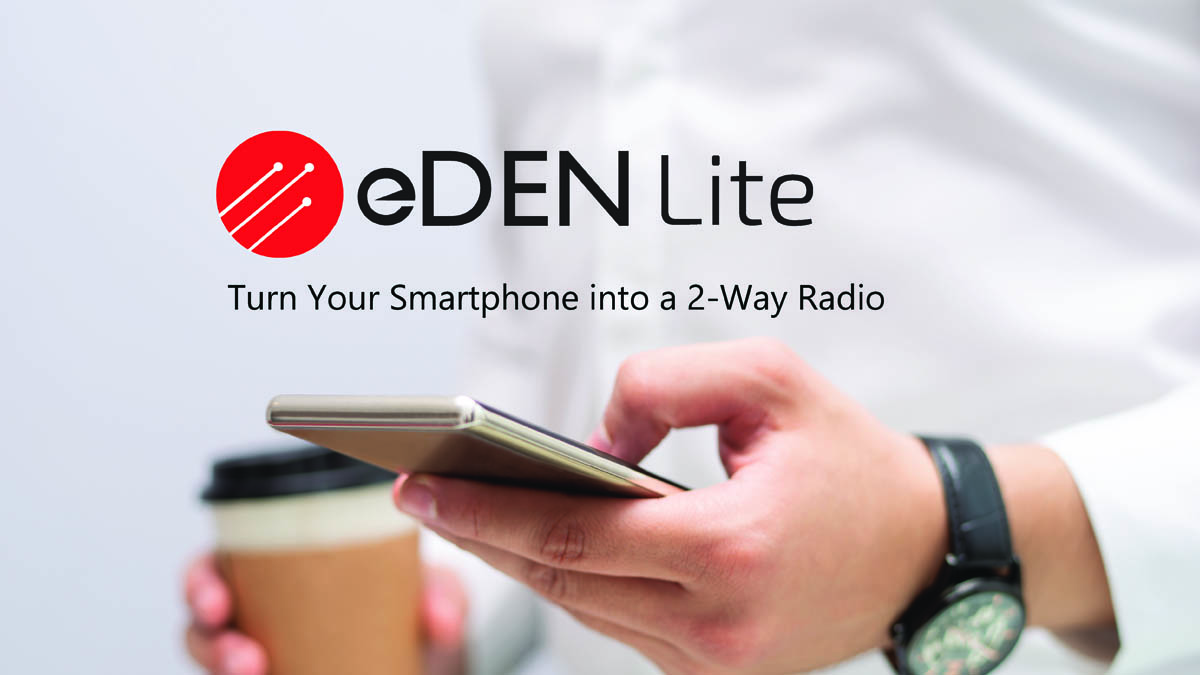 Look around and you will see more people using their smartphones not only for personal activities – social networking, video & music streaming, and food ordering but also for work – emails, online meets, and constant messaging. All of them have been developed as apps as part of the modern conveniences for the modern user. Thanks to the broadband revolution, there is no way to be left out, whether one is out in the field or working from home.
Some apps bring existing technologies and make them part of the ecosystem. These apps can turn a mobile phone into a walkie-talkie by utilizing the technology of push-to-talk over cellular, or PTT. This means you can instantly send out your message without having to type all your messages or miss an important call.
Enter eDEN Lite, a secure push-to-talk voice communication app, specially made to empower work teams and front liners through instant voice messaging. Once the app is downloaded, you get real-time team collaboration minus the excuses. How? By using the smartphone the way one uses a walkie-talkie. And while they are at it, eDEN Lite offers a chock-full of features that round out the overall experience of the app.
Unlike traditional 2-way radios offering a few channels, eDEN Lite allows you to create an unlimited number of channels just like any walkie-talkie. You can even set up a private network without having other users intruding into your group.
For now, eDEN Lite is only compatible with Android devices, supporting versions Android 5 and higher.
Features
eDEN Lite powers up every Android smartphone with its comprehensive suite of features:
Nationwide and Global Coverage. eDEN offers real-time communication using Wi-Fi or carrier data networks, pushing your operations to move forward
One-to-one Calls. Talk to one user over a secure channel
Unlimited Group Calls. Create a private channel for several members of the team
Voice Recording. Live voice playback anytime
Multimedia Messaging. You can send text messages and photos
Benefits
Real-time communication. We cannot emphasize push-to-talk communications' impact on people especially if they are in the field. Research from Bell Canada shows in a typical 8-hour work shift, a foreman can save up to 49 minutes by using push-to-talk, with 16 minutes saved on 50 one-to-one calls, and 33 minutes saved with 20 group calls.
Lesser miscommunications. And because communication is real-time, eDEN Lite helps you deliver instant notifications, providing an immediate response for received messages.
Improved productivity. eDEN Lite eliminates the need for emails and other app distractions and allows more focus at work. This leads to improving your team's productivity and performance.
Better worker collaboration. eDEN Lite reduces the delays for mission-critical communications, bringing messages faster and clear to colleagues. Team collaboration becomes better and much appreciated.
Great sound quality. The app uses Wi-Fi and data connectivity, allowing messages to be clearer than ever.
Robust Network
eDEN Lite comes from the eDEN Network, a platform that leverages the telco's extensive LTE/GSM and Wi-Fi. eDEN as Network power all the MVP push-to-talk over cellular devices such as the i500, E88, i368, and more. Utilizing its capabilities allows eDEN to make these radios establish the core functions of a conventional 2-way radio while delivering the most advanced features like multimedia messaging, video and photo uploads, live video sharing, integrated dispatch console, and central management.
If you think your business can settle with just messaging apps to communicate, you will be surprised that many industries to date have been adopting the use of eDEN plus the reliable push-to-talk (PTT) devices to stay connected with the rest of your colleagues.
Would you like to know what eDEN is capable of? Watch out for the second part.